Vegas Super Band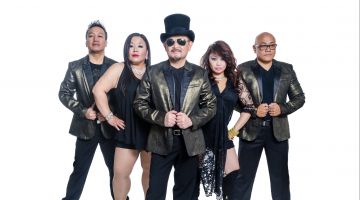 Date:
July 22, 2017 7:30pm
Cost:
Tickets $10.00 plus taxes and convenience fees
Buy Tickets
Hailing from the Entertainment Capitol of the world, Vegas Super Band aka "VSB" has been performing since September 13,2010. Credited for numerous sold out shows in showrooms, festivals, and other public and private events, VSB has been one of the most sought performing act in town.

Imagine an 11-piece Band (5 Vocalists, Full Rhythm Section with Latin Percussions, and 3 part Horn Section) with past and present members from the hottest acts around Las Vegas (360, San Fernando, HNLV, In10ct, 24K, Frankie Moreno's Horn Section, S.O.S. and more). Having a dance concert format with a repertoire that will electrify one's soul and will keep the crowd moving on the dance floor, their audience is guaranteed to be asking for more. VSB will review the hits of The Highly Celebrated Performer Bruno Mars on the first set with dance choreography, skits, and full on costume changes followed by an all-out dance party with a special guest performer on an open dance floor.
Box Office: 702-284-7777 / 877-636-7111
You can also purchase tickets at the Suncoast Box Office