The George Gee Swing Orchestra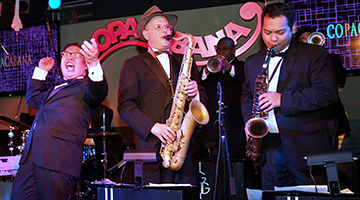 Date:
July 4, 2014 7:00pm
Location:
Cost:
$15.95 plus taxes and convenience fees
Tickets Go On Sale: April 26 12:00pm
NYC's swingin'est big band! Music by the George Gee Orchestra sets new standards for modern big band performance, elegantly balancing genuine traditions with exhilarating modernism. This versatile swingin' ensemble can deliver everything from a sweet foxtrot ballad to rock and soul party favorites to all-out rollickin' roadhouse boogie!
A few notable career highlights have included: Playing at Ozzy Osbourne's 50th birthday party in Beverly Hills. Being the first modern-era swing band welcomed from the West to perform at a swing dance event in Japan. Quincy Jones summoning the band to perform for the Royal Family of Jordan. And so many more!
"We've traveled a long road – many long roads, literally and figuratively – and I'm proud to say that today, swing music, jazz and the big band art form are not only alive and well, but enjoying their widest popularity since their heydays," George says.
Box Office: 702-284-7777 / 877-636-7111
You can also purchase tickets at the Suncoast Box Office