The Diamonds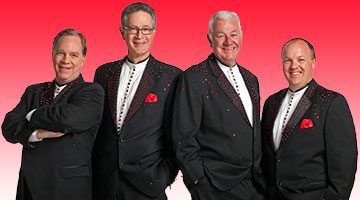 Date:
March 29 - 30, 2014
Location:
Cost:
Tickets from $15.95 plus taxes and convenience fees
It will be a trip down memory lane for kids of all ages as this vocal quartet presents an array of timeless classic rock and roll hits. Aren't sure if you remember the words? Come join the fun and you will most certainly be surprised at how quickly those cobwebs disappear! Tight vocal harmonies and great entertainment will be the order of the evening as The Diamonds' take you through their classic hits—Why Do Fools Fall In Love?, Silhouettes, The Stroll and the National Anthem of Rock & Roll, Little Darlin'.

But they won't stop there as they pay tribute to the classic four-part harmony vocal groups of the era as well as the great solo artists of the time singing hits such as Blue Moon, At The Hop, Sherry, Day By Day, Splish Splash, Unchained Melody, Lovin' Feeling, Bandstand Boogie and an a cappella version of the Beach Boys unforgettable In My Room. Come and enjoy an evening of unforgettable entertainment with a big bonus, these are songs you can actually go home and sing yourself tomorrow! Rock on!
Box Office: 702-284-7777 / 877-636-7111
You can also purchase tickets at the Suncoast Box Office