$30,000 Guaranteed During Our New Year's Eve Bingo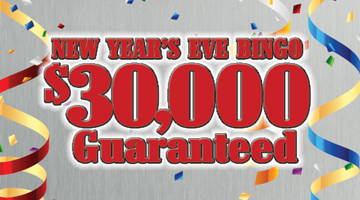 Date:
December 31, 2015 9:30pm
Cost:
Tickets from $60 plus taxes and convenience fees
Doors open 8:00pm and bingo begins at 9:30pm. This Is Not A Linked Game.
$60 buy-in per player, pays for all 22 games, each player receives one 9-on pack.
$15 each additional 6-on pack, maximum 10 additional packs in electronic units.
3 Pack Minimum to Use Electronic Units Your Buy-In 9 On Pack Plus 2 Additional Packs for a Total of $30 on the Day of the Game
Free Dauber
Champagne
Party Favors
Hors D'oeuvres
2016 Date Book
Play Will Stop At Midnight For Local Broadcast Celebration
Celebration Ball
Bingo on N 31 and receive $1,000 in addition to the game prize payout. Bingo on any number ending in 1 and receive $500 in addition to the game prize payout
Excludes the coverall games. Aggregate payout if more than one winner.