Charlie Murphy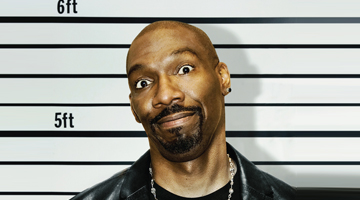 Date:
September 26, 2014 7:30pm
Location:
Cost:
Tickets from $15.95 plus taxes and convenience fees
Charlie Murphy's rapid evolution from "Chappelle's Show" cast member to top-billed international comedian has been remarkable. He has spent over a decade performing stand-up, playing to sold-out audiences around the globe, and solidifying his position in Hollywood as a true acting, writing and producing talent.

Charlie has toured nationally with fellow "Chappelle's Show" cast members Bill Burr and Donnell Rawlings, a co-headlining tour with Mike Epps, a co-headline, 20-city "Maxim/Bud Light Real Men of Comedy Tour" with Joe Rogan and the headlining tour "I Will Not Apologize" for which Murphy filmed his first DVD special of the same title. This special premiered on Comedy Central in the #1 slot w/ over 1million viewers tuning in. Internationally he has invaded over 10 countries including Scandinavia (Iceland, Norway, Sweden), Australia, New Zealand, Scotland, Amsterdam and Canada, an accomplishment very few American comedians can boast of.

A career spanning over 2 decades, Charlie has worked with top Hollywood talent such as Denzel Washington, Halle Berry, Eddie Murphy, Ben Stiller, Danny Aiello, Terrance Howard, Gabrielle Union, Queen Latifah, Ice Cube, Vanessa Williams, Rip Torn, Peter Falk, Spike Lee, Redd Fox, Angela Bassett, Wesley Snipes, Jamie Foxx, Samuel Jackson and Sammy Davis, Jr.

His autobiographical book entitled "The Making of a Stand Up Guy", was published by Simon and Schuster and he is currently preparing to film his second live stand up DVD, "Charlie Murphy's Acid Trip".
Box Office: 702-284-7777 / 877-636-7111
You can also purchase tickets at the Suncoast Box Office